Today in my hotseat is the wonderful Katherine Rhodes. I adore her, she is one of the best authors I have befriended.
About the author
Armed with her Bachelors of English, Literature from Montclair State University and a pen name, Katherine Rhodes has set her mind to writing erotic romances which are kinky, dirty, and fun. A lackadaisical laundry goddess, expert in the profundities of bad movies and awful literature, she resides in Philadelphia with her husband, three cats and a betta named Fishtian Grey.
☆●☆☆●☆Hotseat☆●☆☆●☆ Nine questions
1.
If you could go back and reread any one book for the first time what would it be?
It's actually a trilogy-- called the Fionavar Tapestry, by Guy Gavriel Kay. It was a gift from my high school English teacher and it was amazing, and still is. I reread it about once every two years.
2. Name one song you could listen to everyday and never grow tired of it.
My Immortal, by Evanescence
3.
Do you outline your story or fly by the seat of your pants?
I think I'm turning into a reformed pantser. I've been plotting a bit lately and I kind of like it. I don't always stick to the plot, but it makes it easier when I don't know which way to go.
4.
If you could sit down with any Author for dinner who would it be and why?
Anne McCaffery. I grew up loving everything about all of her books and all of the wonderful worlds she created. I loved getting lost in them. That she was a woman writing in SciFi at the time was amazing-- it was a male dominated world when she started and she didn't care.
5.
You get to choose the car of your dreams what do you get?
Lamborghini. Rust Red or smoke gray. I have dreamed of that car since I was about 7 years old. Le Sigh.
6.
What's one author you wish more readers knew about?
Nawal el Sadaawi. (Ok, look, I'm kind weird and really into all kinds of crazy things.) She's an author from Egypt, and she's amazing. She doesn't write long books, but they are poignant and just dig in your soul and pull out all the feels. ALL the FEELS. Start with The Circling Song.
7.
What are you currently working on?
The Darkest Corners, for The Club Series. It's a nice dirty BDSM erotica story. :D
8.
Finish the sentence...A world without books would be --
the wrong planet. We obviously took a wrong turn at Albuquerque.
9. Tell me something about you that would surprise most.
I'm ridiculously shy and awkward and have a terrible social phobia... most people are shocked to find that out because I come across as expressive and confident. I'm not. I'm a chicken.
Releasing March 23rd
Half-Soul (The Realm #1)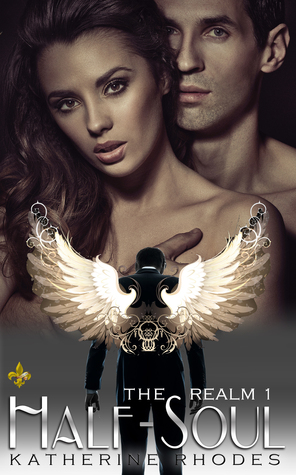 Hell called to his soul, but his soul resisted.
Or that's what Asher Terhune believed.
Born from the demonic seduction of his human mother, his birth destroyed her marriage. They were left with only a Guardian and Watcher to protect them from his demon heritage. Born with a half-soul, Asher quickly learned to use the Seven Deadly Sins to fill the hole inside himself.
His favorite sin was Lust.
Women had no chance of a second night with Asher, once he was done with them. And he had no intention of changing his ways. Until the sweet, calm, caring Sarah Illfrig rocks his world, and refuses his bed.
Asher finds her refusal unacceptable and takes on the challenge of seducing her. Sarah pushes him away even as the desire she feels for him is pulling her in.
But Sarah harbors her own secrets, and when the Guardian and the Watcher find out, it becomes imperative to keep Sarah and Asher apart.
Add it to your TBR (to be read) list https://www.goodreads.com/book/show/24991863-half-soul
Stalk the author